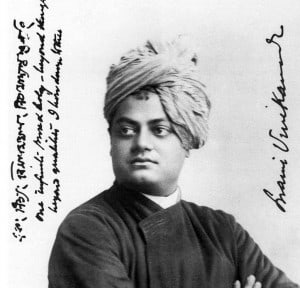 He was born on 12th January, 1863 in Kolkata, India with the name of Narendranath Nath Datta who became a Hindu monk later; he died on 4th July, 1902.
In his childhood he showed his talents in gymnastics, music and also in studies. He got huge knowledge on many subjects including western philosophy and history. He is said to be born with a yogic temperament, somehow he began following medication when he was young. He then got associated with Brahma movement.
He had doubts on existence of god. He heard about Sri Ramakrishna from a professor in his college and went to meet him. He asked tons of questions from Sri Ramakrishna including "Have you seen the god?" Somehow Sri Ramakrishna was able to win Narendra with his explanations, and his pure, unselfish love. Then it became a typical Teacher pupil connection as in history of spiritual masters. Narendra did more spiritual studies then and he met young men who were searching for it.
He had a big crash when his father died in 1884. He bore it with his family members. Again there became a difficult situation in his life, when he was diagnosed of throat cancer. He then went to a rented villa at Cossipore and he was well treated by young nurses. With time, he became the leader of a young group which was seeking for spiritual glory. After 1887 they became formal sannyasa and used new names making Swami Vivekananda of Narendra.
Lots of followers of Sri Ramakrishna were in their own worlds where Vivekananda was seeking for greater mission trying to listen to his inner call. He went around India visiting the poor people and helping them not only by giving spiritual knowledge but also by giving them knowledge on how to develop in things like agriculture, village industries etc. This was a major step that could reduce poverty in India. He gave them inspiring messages and made faith in their minds. He simply spoke to their spirit and made a huge difference in people's mind.
In 1893, he attended religious parliament in Chicago and spread his message all around the world with his team. He was then named "The messenger of Indian wisdom to the western world". Vivekananda and his team did a lot of social works and services in India. He passed away on 4th July 1902.