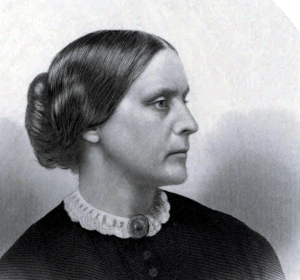 Susan Brownell Anthony was born on 15th February 1820 in the United States and is best known for the role she played in women's suffrage movement and also for being an advocate for women's rights as well as an abolitionist.
Anthony was born in a Quaker family who had overall specific views and was against slavery and other social injustices. Very early in her life she developed strong moral beliefs and went on to fight for different causes throughout her life. When only in her mid-20s (mid 1940s) her family moved to a farm in the New York area and altogether got involved in the abolitionist movement. 1851 was a pivotal moment in Anthony's life, while attending an abolitionist conference she met Elizabeth Cady Stanton who would become her life-long companion in her crusades.
After the abolitionist movement, Anthony became involved in a movement aimed at the limitation (or complete stop) of alcohol production and sale. Times were tough for women in those times, not being allowed to vote and speak in public. When she was denied the right to speak at a convention on account of being a woman she had the idea to start a women's rights movement so that women can vote and own property. All the campaigns for women's right did not get her very far and in 1872 Anthony went to vote illegally which got her arrested and fined $100.
Her fight for women rights got her an appointment with President Roosevelt in 1905 (age 85) and she kept fighting until 1906 when she died at the age of 86. Women were given the right to vote in 1920 mostly due to her efforts. It just goes to show what determination can do. In 1979 special $1 coins were issued with her portrait making her the first woman to appear on currency.