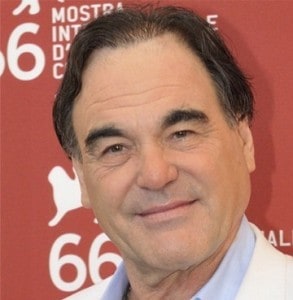 Oliver stone started his career in military and his interest on films forced him to work for film industry where he later became a director. He was born on September 15, 1946 in the New York City. He discontinued his education from the Yale University and joined the Army in 1967. Within a short span of time, he received several honors and the influence of Vietnam War in which he participated can be clearly seen in most of his films.
Once he came out of American Army, he studied Fine Arts (1971) and from then onward he concentrated on films. Just like so many other people, Oliver Stone also struggled a lot to get chances. He played some comedian roles and worked as a cab driver to earn money. He even did some odd jobs like messenger and salesman as he struggled financially.
After long struggle, he started his work as a film production assistant and tried to impress already well-established directors with his stories. He won his first academy award for the adaptation of "Midnight Express" in 1979.Even after winning the Academy award; his film career didn't speed up. He was criticized for over dramatizing the novel and hurting the sentiments of Turkish people. In 1986, he directed the film Platoon, which gave him due recognition as a writer and director.
This is considered as one of the best war films ever made and from then onward, stone never looked back but kept on directing the films. Though his earlier life was influenced by Christianity, he is now practicing Buddhism. He didn't contest in any elections directly but expressed his support for Barack Obama in the USA presidential elections (2008 and 2012). He expressed his full support for wiki-leaks and its founder Julian Assange. He is very active politically and expresses his views on all the famous international events (if possible).