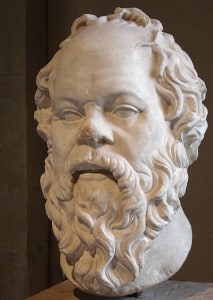 Even after 2400 years after his death, Socrates is considered as one of the greatest philosophers of all time. One must note here that he didn't write anything and all the works which are credited as Socrates works are written by his devotees/scholars like Plato, Xenophon etc. According to historians, he was born on 470/469BC and his father, Sophroniscus was a sculptor and his mother was a housemaid.
He was married to Xanthippeat an early age and the couple was blessed with three sons. He started his career as a stone cutter and later dedicated his life to study philosophy. He considered this as one of the important arts and dedicated his life to discuss the things that were beyond the imagination of the people present at that time. Within a short period of time, he got the teacher tag and the number of disciplines started to grow.
The dialectic form of enquiry he proposed is the base of Philosophy study and it is popular worldwide as method of "elenchus". According to some reports, Socrates had the opportunity to escape from the jail as his students bribed the guards who were on duty. Socrates refused to flee and drank poison hemlock and died in the prison. When the Athens city was defeated by Spartan Army and in the process of rebuilding, people thought of democracy as the effective way to rule but Socrates criticized as he considered democracy as the inefficient form of government.
In some of his dialogues, he supported the archrivals of Athens people and this irked the patriotic feelings of Athens people and Socrates suffered stiff opposition. He always wanted to improve the sense of Athens people and the historians who favor Socrates reasoned this as a main reason to impose capital punishment.