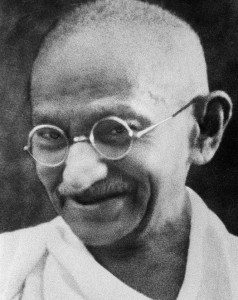 Mahatma Gandhi is a well-known figure of peace all over the world. He was born on the 2nd of October 1869 and was assassinated on the 30th of January 1948. He was one of the most prominent figures to have led the successful Indian struggle for independence. His peaceful teachings and non-violent methods of rights movements have inspired many movements of freedom across the world. Born as Mohandas Karamchand Gandhi, he was conferred the honorific title of Mahatma which stands for venerable. His birthday is observed as a national holiday in India and he is lovingly referred to as Bapu or the father of the nation. He is one of the most respected figures in India and the Indian paper currency has his image on all the denominations. His death day is also observed as Martyr's Day in India.
Gandhi was born in a well to do family in British colonized India and the ancient Indian stories of peace, truth and love had a great impact on him since his childhood. Gandhi travelled to England in 1888, where he pursued studies in law and jurisdiction. While he wanted to establish a law practice firm, he found himself unable to cross question witnesses and criminals. He then moved to South Africa to work as a lawyer for an Indian firm. South Africa exposed the world of discrimination against the non-whites to Gandhi. He was often abused, beaten up and was also thrown off a first class train coach. Gandhi protested to all of these in a peaceful and non-violent manner and these events ignited a passion in him to fight against social discrimination.
Gandhi returned to India in 1915 and was dedicated to questioning the practices and the injustice of the British Empire. His peaceful methods of demonstrations and his values of truth, love and peace attracted a number of people and soon, almost the entire country was rallying behind him in support. He demonstrated and formed a number of non-cooperative peaceful movements and was also recognized to be an eminent Indian leader by the British. After the wars as Britain looked to free its colonies, India gained its independence, but was also broken down into India and Pakistan. This incident deeply grieved Gandhi but he could not do much to stop it from happening. After India's successful independence, Gandhi was saddened to see that people were lusting for power and that his vision had been diluted. In 1948, Gandhi was assassinated as he was thought to be the prime reason behind favoring a separate nation for Pakistan by the Hindu extremists.
Gandhi's has always been extremely peaceful and has always adopted non-violent methods in order to oppose things. He has shown the world a lot in terms of peaceful demonstrations and he is one of the most revered figures in the history of peace. However, Gandhi has not been awarded the Nobel Peace Prize, even after having been nominated five times.