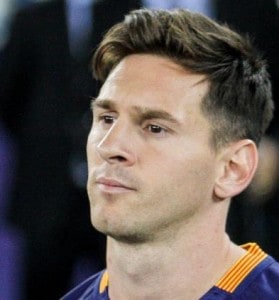 Born on the 24th of June, 1987, Lionel Andres Messi Cuccittini is a world renowned professional football player who plays for Barcelona FC and is also the captain of the Argentine National Team. Messi is often touted to be one of the best footballers playing today and many even argue that he may be one of the greatest the sport has ever seen. Messi has consistently broken a number of football records and holds two world cups, two UEFA Super cups, three Champions League cups, six La Liga cups and is also the leading goal scorer of all time in both the La Liga and the Champions League.
Messi was not born in a well off family. His father was a worker in a steel factory and his mother worked part time as a cleaner. Messi had been fascinated by the sport at a very early age and joined his first club at the age of five. Unfortunately, at the age of eleven, Messi was diagnosed of having a deficiency of growth hormones and his treatment to overcome the situation would require about $900 a month. While many local clubs and teams had shown a lot of interest in Messi, nobody was willing to shell out the expenses for his treatment.
However, this young boy had already managed to raise a number of eyebrows with his impeccable skills and his immense talent with the ball. As such, his strength and determination shone through on the field and he was noticed by the sporting director of Barcelona FC, who offered him a contract on a paper napkin to join the club. He also assured him that if he moves to Spain in order to pursue a football career, the club would pay for all his medical expenses. Messi accepted the contract and moved on to Spain. Ever since that incident, Messi has never looked back and has gone on to make a big name for himself internationally, and has garnered a lot of love from football fans all over the world.
Even after becoming one of the biggest stars in the sport, Messi has not forgotten the difficult times he has faced in his past. Consequently, in 2007, he established the Leo Messi Foundation which is dedicated to provide healthcare and also education to poor and vulnerable children. Messi is surely a very inspirational figure who has made it big on the basis of his determination and skill and has combated a difficult past to come out on top.