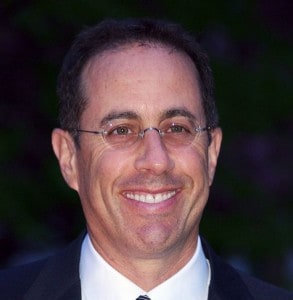 Jerry Sienfeld was born as Jerome Allen Jerry Sienfeld on 29th April in 1954. He is an accomplished comedian, actor and producer. He has also written a number of scripts.
Sienfeld was born in New York and he is of Jewish and Syrian descent. Sienfeld also grew up in New York, he volunteered in Israel at the age of 16. During his time at college, he was involved in a number of college productions; this helped him understand that he had a great interest in stand up comedies. After graduation from Queens College he even auditioned at the open-mic night in "Catch a Rising Star" in New York and this helped him land his first step in the world of show business via the show "Rodney Dangerfield".
In 1979 he landed a role in a drama entitled "Benson" where he played the part of a mail delivery man. He had to perform a few comedy routines, after a few episodes he was fired from the series and the worst part was that he was not properly notified about this. Instead he had to find out on his own when he discovered he had no lines upon reaching the studio for rehearsal. This marked the beginning of a bleak time where he kept on looking for work but never gave up. His determination and dedication paid off when in 1981 he achieved appreciation on The Tonight Show and impressed Carson. This landed him regular roles in this show and others like Late Night with David Letterman.
He is best known for his role in the drama Sienfeld where he plays a fictional character based upon him. He co-created and co-wrote that show with Larry David. He stepped in to the production business for the last two seasons of this television series.
In 2007, he was able to co-write and co-produce an animated film titled Bee Movie. He was the voice behind the main leading character. In 2010 he secured a role in the Marriage Ref. He is also well known for his online series Comedians in Cars Getting Coffee.
He has a well-established stand-up comedy act which is based upon things that he observes in his surroundings. He focuses his jokes on personal relationships and all the unnecessary or uncomfortable social understandings and ethics. He was awarded the position of the 12th Greatest Comedian in 2005 by Comedy Central.