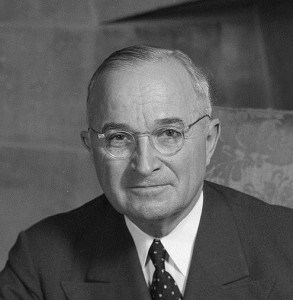 Harry Truman was endorsed as the 33rd President of USA. He came in to power in 1945 after Roosevelt's Death and remained in power till 1953.Truman oversaw the Allies during World War II.
He was born on 8th May, 1884 in Missouri. He spent his youth on his family's barn. During his early years, he was forced to work on the same farm but he hated every bit of it. One measure of peace was the fact that he fell in love with his wife to be, Bess while working on this farm. After his father's death in 1914 he tried to work elsewhere while taking care of his family's farm but was unsuccessful in finding work that could pay well. Still determined and undeterred by such obstacles, he continued to find his way in the world.
He joined World War I as an officer and was stationed in France. After the war he opened a men's store but the shop did not run as planned. But this did not stop Truman's passion for finding a job that he loved; he soon entered in to the world of politics by joining the Democratic Party in his hometown. He ran in his county's elections and was successfully elected; he went on to become a senator in 1935. He was well known for the Truman Committee, which was able to expose waste, fraudulent acts and corruptions in the contracts signed during the war.
Germany waved the white flag just a few months after Truman became the President. It was expected that the fighting with Japan might last for a year or two. But he made sure that Japan surrendered by approving the use of atomic weapons of mass destruction against it. This helped prevent their intended invasion of America. Though a lot of people find this decision controversial, there is an even greater majority that remembers him as a hero for it.
He had exceptional policies regarding foreign affairs and worked really hard to establish the United Nations. He even battled off communism by issuing the Truman Doctrine. He presided over the Berlin Airlift in 1948 and helped create NATO in 1949. When North Korea took over South Korea in 1950 he even sent in American troops to stop this communist invasion. His administration was very successful in guiding America through the economic turmoil of the post-war era. He worked greatly to improve Civil Rights.
He died on 26h December 1972 due to the failure of a number of organs.