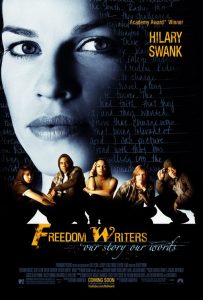 Freedom Writers is a 2007 drama film starring Hilary Swank, Scott Glenn, Imelda Staunton and Patrick Dempsey.
It is based on the book The Freedom Writers Diary by teacher Erin Gruwell who wrote the story based on Woodrow Wilson Classical High School in the Eastside neighborhood of Long Beach, California. The movie is also based on the DC program called City at Peace. The title is a play on the term "Freedom Riders", referring to the multiracial civil rights activists who tested the U.S. Supreme Court decision ordering the desegregation of interstate buses in 1961.
The idea for the film came from journalist Tracey Durning, who made a documentary about Erin Gruwell for the ABC News program Primetime Live. Durning served as co-executive producer of the film. The film was dedicated to the memory of Armand Jones, who was killed after wrapping up Freedom Writers. He was 18 and was shot to death in Anaheim, California after a confrontation with a man who robbed Jones of a necklace in a Denny's restaurant. Read more on Wikipedia.