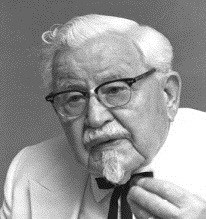 Read the best and famous Colonel Sanders Inspirational Quotes. Get inspired from the Colonel Sanders Inspirational Quotes to get your motivation.
I think a dream is just a suggestion to start something out, do something.

One has to remember that every failure can be a stepping-stone to something better…

Work is the basis for living. I'll never retire. A man will rust out quicker than he'll ever wear out. And I'll be darned if I'll ever rust out.

Hard work beats all the tonics and vitamins in the world.

Don't be against things so much as for things.